Oil Sands Safety Association Accredited (OSSA)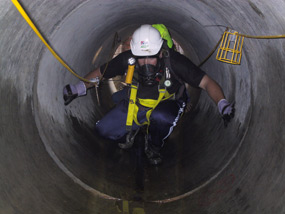 Course Cost: Member $160 plus GST Non-Member $200 plus GST
Our instructor is trained and certified by Fusion Safety Services; a licensed OSSA training provider. Classes are held every Wednesday in Kelowna, BC.
OSSA Confined Space Entry/Monitor is a one day course was developed for workers entering and working in or around confined and restricted spaces who must be trained in order to perform their duties in a safe and healthy manner. It includes an instructor led powerpoint presentation, class exercises, videos, and a written knowledge test.
8:00am - 3:30pm | Duration: 7.5 hours
Course Content:
The OSSA Regional Code of Practice requirements
What a Confined Space and Restricted Space is
The training and competency requirements
Recognition, evaluation and control of hazards and completing a hazard assessment
Classification of Confined Space levels
Legislation requirements (Safety and Protection)
Hazardous substances and enery (Isolation)
Testing the atmosphere
Ventilation and purging
Neutralization and inerting
Entry permit system
Confined Space Monitor responsibilites and duties
Emergency response
Personal Protective Equipment
Definition's
SICA offers weekly training for OSSA Fall Protection and OSSA Elevated Work Platform. See all our safety training courses.
Classes are held at the SICA Training Centre, #204-171 Commercial Drive Kelowna BC