Back to Member Directory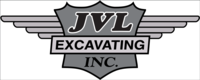 JVL Excavating Inc.
Business Type: Trade Contractor
JVL Excavating Inc. is a family owned company, established in 1995. We offer services ranging from road building to site prep and demolition, civil on and off site, pipe work and site reclamation, foundation excavation and backfill. We currently have four Hitachi 225 excavators with thumbs, four Hitachi 135 excavators with thumbs, a Kubota KX-121 mini excavator, Yanmar 55, two gravel trucks and pup's, a 938F Caterpillar loader, bobcats on either tracks or rubber tires, and a variety of roller packers, and plate tampers. If you are seeking a company with competitive rates and the experience to get the job done on time, please feel free to contact Vic Lima at 250-869-9699 or Joe Lima at 250-868-1945 or via email @ jvlx@shaw.ca.
Contact Information
Primary Contact: Vic Lima
Location:

West Kelowna

,

Kelowna
Phone Number:
250-769-5556
Alternative Phone Number:
250-718-6465 cell Amanda
Industry Information
Business Type:
Trade Contractor
Showcase
This member currently has no showcase projects available. Please check back soon!