Back to Member Directory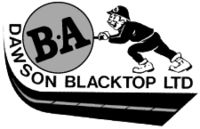 BA Dawson Blacktop Ltd. - Kamloops
Business Type: General Contractor
BA Dawson Blacktop Ltd was established in 1969 and has been serving the concrete and asphalt needs of the Kamloops area for over 45 years. We are highly skilled in paving and site servicing, and have established a reputation in the industry for providing fair pricing and quality work. B A Dawson Blacktop is the only locally-owned, full service company in the Kamloops region that offers concrete supply and paving contracting services. No other company in the area can offer what B A Dawson Blacktop does. We provide expert workmanship, a high level of quality control, and unmatched reliability. We have in stock such products as asphalt mixes, ready-mix concrete and Chromix® colour concrete mixes. We also have specialized equipment available for rental. Please contact us for details or to schedule an estimate.
Contact Information
Primary Contact: Diana O'Dare
Location:

Kamloops

,

Kamloops
Phone Number:
250-374-2808
Industry Information
Business Type:
General Contractor
Sub-Categories:
Concrete, Equipment Rental - Heavy, Highways
Showcase
This member currently has no showcase projects available. Please check back soon!