Back to Member Directory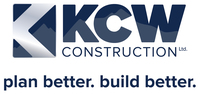 KCW Construction Ltd.
Business Type: General Contractor
KCW began as a small residential construction company founded in 2004 in the Okanagan Region of British Columbia. Over the course of the next seven years, the company grew from a small contractor focusing mainly on home renovations, to sustaining in excess of $1M in revenue per year constructing high-end homes. In 2011, the company's founder had an opportunity to join a young, evolving Engineering, Procurement, and Construction Management (EPCM) company serving the mining and energy sectors. Experience working on projects for some of the world's biggest mining companies, such as Newmont, Anglo American, and DeBeers, exposed the need for better performance where it matters. Transparency from the early stages of the project, help KCW stay lean and agile. Although only a small company, KCW has a wide breadth of experience on both small and large projects. The Company treats every project with the same level of importance by keeping key personnel involved in every build. The team that will build the project is also the team who completes the planning. Experience has shown that in order for a project to be truly successful, it needs to be well planned. By planning better, KCW builds better.
Contact Information
Primary Contact: Quin Whieldon
Phone Number:
778.212.2240
Industry Information
Business Type:
General Contractor
Sub-Categories:
Alterations & Remodeling, Building, Construction Management, Maintenance, Mining, Project Management, Public Private Partnerships
Showcase
This member currently has no showcase projects available. Please check back soon!