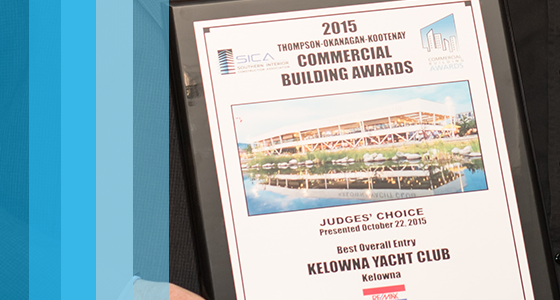 The 8th Annual Southern Interior Construction Association Commercial Building Awards will be held in Kelowna October 27, 2016 and the popular celebration of the best of the best in commercial and industrial construction is now accepting nominations for this year's event.
Buildings completed in the Thompson, Okanagan and Kootenay regions (Kamloops to Salmon Arm to Osoyoos and from Revelstoke to Fernie between July 31, 2015 and July 31, 2016 are eligible for the awards, and there is no cost to enter. The nomination deadline is September 2, 2016.
This year, there are 13 categories, including a new one for Civil (Roads, bridges and infrastructure).
Other categories are: Mixed use (commercial/residential) Community Institutional includes Church/ Schools/Government Facilities), Retail/Shopping Centres, Office, Community Recreational, Senior's Housing, Industrial, Multi Family/Single Family, Hospitality (Hotels/Motels), Recreational/Resort, Commercial renovation/Restoration and Green
For further information or sponsorship opportunities, contact Mark MacDonald at 1-866-758-2684 Ext. 120, or email mark@businessexaminer.ca.
To download a nomination form, click here.